About
Recently relocated to St Petersburg, Florida, Steve Balesteri has quickly found his place in the Tampa Bay music scene.  After years of honing his craft in his hometown of Buffalo, NY (Go Bills!), Steve decided to make his favorite vacation spot his permanent residence.  Bringing his brand of upbeat feel good vibes to the Sunshine State was the perfect match and it didn't take long for him to find residencies at some of the best spots in town.  Primarily performing as his solo acoustic "one man band" show, Steve covers everything from the current radio hits to your favorite classics and (nearly) everything in-between, including songs from his ever-growing catalogue of original music.   In addition to his solo show, Steve also performs in many other configurations and can tailor his performances to nearly any venue and audience.  Read on to learn more about the different options...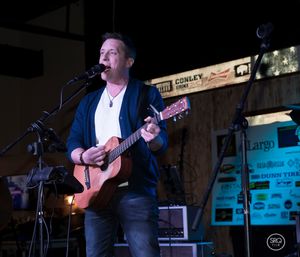 PERFORMANCE OPTIONS
Steve's "bread and butter" and most frequent performance option is his "one-man-band acoustic" show.  Utilizing looping and vocal processing technologies, these performances feature layers of looped beatboxed percussion, bass-lines, guitars and harmonies.  At his shows, Steve performs anything from Pop to Rock to Country to R&B to Jazz, always putting his own spin on the material, allowing him to seamlessly transition between styles and genres.  This setup is the perfect option for a wide range of events where space or budgets may not allow for a full band, including: cocktail hours, wedding ceremonies, restaurants, bars, lounges, private parties and more!
Oftentimes Steve will be joined by one or several of his bandmates to add to the sound and perform all their band favorites in an "acoustic" setting. 
Steve's Party band, The Uptown Sound, is a group that features some of Western New York's top musicians teaming up to create an incredible live show.  The group also features an in-band DJ, providing the perfect mix of live and recorded music at their shows.  Not only does this allow them to have a virtually unlimited song-list, but it also allows them to keep the party going even when the band is taking a break!  They are able to seamlessly transition between the band and the DJ to create a non-stop party atmosphere!   
Although typically a 9-piece, the group is able to perform can perform as small as a duo and even has the ability to expand to an even larger ensemble with more horns, vocals and even strings! 
Whether it is a cocktail hour at a premier event performing jazz standards or a full out dance party performing the latest dance hits straight off the Billboard Charts, The Uptown Sound is the perfect choice for any event.